Repository

Last change

2020-03-26

Graph Categories

Family

Capabilities

Keywords

Language

License
ilias_session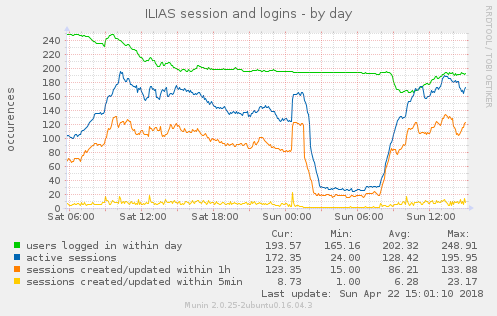 Name
ilias_session - Munin plugin to monitor ILIAS open source learning management system's sessions
Description
Reads session and user statistcs from any ILIAS MySQL/MariaDB database.
https://ilias.de/ | http://gallery.munin-monitoring.org/contrib/cms-index.html
Requirements:
bash version 4 is required for associative array support. This plugin requires mysql CLI or a compatible client being available.
In order to get precise results, please ensure your MySQL server has the same time as your ILIAS application server. Timezone does not matter.
Configuration
The plugin needs the following configuration settings e.g. in /etc/munin/plugin-conf.d/ilias.conf
[ilias_session]
    env.ildbuser ilias
    env.ildbpassword youriliaspasword
    env.ildb ilias
    env.ildbhost localhost
    env.ildbport 3306

WARNING: Setting env.ildbpassword will possibly expose the database password to other processes and might be insecure.
Author
Copyright 2018 Felix Pahlow (email)
License
Licensed under the MIT license: https://opensource.org/licenses/MIT
Contribute
Find this plugin on GitHub
Magic Markers
#%# family=auto
#%# capabilities=autoconf

Version
2.0

Changelog
2.0 - 2018/04/20
first sh release

1.0 - 2018/03/19
first release

#!/usr/bin/env bash


# Munin plugin for ILIAS



: << 

=

cut



=

head1 NAME

ilias_session - Munin plugin to monitor L<ILIAS|https://ilias.de/> open source
learning management system

's sessions





=head1 DESCRIPTION





Reads session and user statistcs from any ILIAS MySQL/MariaDB database.





https://ilias.de/ | http://gallery.munin-monitoring.org/contrib/cms-index.html





Requirements:





bash version 4 is required for associative array support.


This plugin requires mysql CLI or a compatible client being available.





In order to get precise results, please ensure your MySQL server has the same


time as your ILIAS application server. Timezone does not matter.





=head1 CONFIGURATION





The plugin needs the following configuration settings e.g. in


/etc/munin/plugin-conf.d/ilias.conf





    [ilias_session]


        env.ildbuser ilias


        env.ildbpassword youriliaspasword


        env.ildb ilias


        env.ildbhost localhost


        env.ildbport 3306





WARNING: Setting env.ildbpassword will possibly expose the database password


to other processes and might be insecure.





=head1 AUTHOR





Copyright 2018 L<Felix Pahlow|https://wohlpa.de/>


               (L<email|mailto:felix.pahlow@wohlpa.de>)





=head1 LICENSE





Licensed under the MIT license:


https://opensource.org/licenses/MIT





=head1 CONTRIBUTE





Find this plugin on L<GitHub


|https://github.com/munin-monitoring/contrib/tree/master/plugins/ilias>





=head1 MAGIC MARKERS





 #%# family=auto


 #%# capabilities=autoconf





=head1 VERSION





    2.0





=head1 CHANGELOG





=head2 2.0 - 2018/04/20





    first sh release





=head2 1.0 - 2018/03/19





    first release





=cut





# Include plugin.sh


# shellcheck source=/dev/null


. "${MUNIN_LIBDIR:-}/plugins/plugin.sh"





# Shell options


set -o nounset  # Like perl use strict;





# Graph settings


global_attr="


    graph_title ILIAS session and logins


    graph_category cms


    graph_args --lower-limit 0


    graph_vlabel occurrences


    graph_info Number of active ILIAS user sessions and logins


"





declare -A d_attr=( \


    [0,field]=iltotal1day \


    [0,type]=GAUGE \


    [0,draw]=LINE \


    [0,label]='

users logged in within day

' \


    [0,sql]="SELECT COUNT( usr_id ) AS C


           FROM \`usr_data\`


           WHERE last_login >= DATE_SUB( NOW( ) , INTERVAL 1 DAY )


    " \


    [1,field]=ilsessions \


    [1,type]=GAUGE \


    [1,draw]=LINE \


    [1,label]='

active sessions

' \


    [1,sql]="SELECT COUNT( user_id ) AS C


           FROM usr_session


           WHERE \`expires\` > UNIX_TIMESTAMP( NOW( ) ) AND user_id != 0


    " \


    [2,field]=il60minavg \


    [2,type]=GAUGE \


    [2,draw]=LINE \


    [2,label]='

sessions created/updated within 1h

' \


    [2,sql]="SELECT COUNT( user_id ) AS C


           FROM usr_session


           WHERE 60 * 60 > UNIX_TIMESTAMP( NOW( ) ) - ctime AND user_id != 0


    " \


    [3,field]=il5minavg \


    [3,type]=GAUGE \


    [3,draw]=LINE \


    [3,label]='

sessions created/updated within 5min

' \


    [3,sql]="SELECT COUNT( user_id ) AS C


           FROM usr_session


           WHERE 5 * 60 > UNIX_TIMESTAMP( NOW( ) ) - ctime AND user_id != 0


    " \


)





# Read the environment and apply defaults


DB_CLI_TOOL="${ildbcli:-mysql}"


DB_CLI_CMD="$(command -v "${DB_CLI_TOOL}")"


DB_HOST="${ildbhost:-localhost}"


DB_PORT="${ildbport:-3306}"


DB="${ildb:-ilias}"


DB_USER="${ildbuser:-root}"


DB_PASSWORD="${ildbpassword:-}"





# Functions





autoconf() {


    if command -v "${DB_CLI_TOOL}" >/dev/null ; then


        echo yes


    else


        echo "no (failed to find executable '

${

DB_CLI_TOOL

}

')"


    fi


}





config() {


    local label_max_length=45


    local i=0





    # print global attributes


    echo "$global_attr" | sed -e '

s/^  *//

' -e '

/^$/d

'





    i=0


    # -v varname


    # True if the shell variable varname is set (has been assigned a value).


    # https://stackoverflow.com/a/45385463/2683737


    # shellcheck disable=SC2102


    while [[ -v d_attr[$i,field] ]]; do


       field=${d_attr[$i,field]}


       echo "$field.type ${d_attr[$i,type]}"


       echo "$field.draw ${d_attr[$i,draw]}"


       echo "$field.label ${d_attr[$i,label]:0:${label_max_length}}"


       echo "$field.min 0"


       ((++i))


    done


}





# Join a bash array $1 is the glue


join_by() {


    local d=$1


    shift


    echo -n "$1"


    shift


    printf "%s" "${@/#/$d}"


}





fetch() {


    local i=0


    local query=()


    local query_string=""


    declare -a results





    # create an array of queries


    i=0


    # shellcheck disable=SC2102


    while [[ -v d_attr[$i,field] ]]; do


        query+=("${d_attr[$i,sql]}")


        ((++i))


    done





    # build query by joining the array elements


    query_string=$(join_by " UNION ALL " "${query[@]}")





    # obtain result using CLI call; don'

t supply password through
    

# command line; note that MySQL considers it insecure using


    

# an environment variable:


    

# >This method of specifying your MySQL password must


    

# >be considered extremely insecure and should not be used.


    

# >Some versions of ps include an option to display the


    

# >environment of running processes. [...]


    result

=

$(

MYSQL_PWD

=

"

$DB_PASSWORD

"

 

\


             

"

$DB_CLI_CMD

"

 

\


            --skip-column-names 

\


            -h 

"

$DB_HOST

"

 

\


            -u 

"

$DB_USER

"

 

\


            -P 

"

$DB_PORT

"

 

\


            

"

$DB

"

 

\


            -e 

"

$query_string

"

 

)



    

# initialize array


    mapfile -t results  

<<<

 

"

$result

"



    

# extract result and echo it to stdout, which is


    

# captured by Munin


    i

=

0


    

# shellcheck disable=SC2102


    

while

 

[[

 -v d_attr

[

$i,field

]

 

]]

; 

do


        echo 

"

${

d_attr[$i,field]

}

.value 

${

results[$i]

}

"


        

((

++i

))


    

done




}






# Main




case

 

${

1

:-

}

 in
autoconf

)


    autoconf
    ;;
config

)


    config
    

[

 

"

${

MUNIN_CAP_DIRTYCONFIG

:-

}

"

 

=

 

"1"

 

]

 

&&

 fetch
    ;;
*

)


    fetch
    ;;


esac



exit 

0