Repository

Last change

2021-08-20

Graph Categories

Family

Capabilities

Keywords

Language

License
switchbotmeter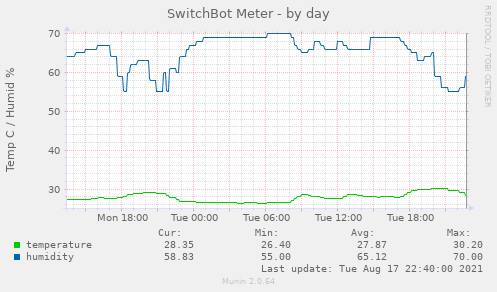 Name
switchbotmeter - Munin plugin to monitor temperature and humidity with SwitchBot Meter

Configuration
Obtain a token and deviceid for SwitchBot API. See the following website.
https://github.com/OpenWonderLabs/SwitchBotAPI

Environment Variables
env.token    : Token to access SwitchBot API. (Required)
env.deviceid : Device ID of SwitchBot Meter. (Required)
env.interval : Interval in seconds for API access. (Optional, default is 0)
env.tempunit : Temperature unit. (Optional, default is C)

Notes
The amount of SwitchBot API calls per day is limited to 1000 times.
If munin-node executes this plugin every 5 minutes, the API will be called 288 times a day.
You can use env.interval parameter to prevent frequent API access. For example, if you set
env.interval 900, the API response will be cached to local file for 900 seconds(15 minutes).

Author
K.Cima https://github.com/shakemid

License
GPLv2
SPDX-License-Identifier: GPL-2.0-only

Magic Markers
#%# family=contrib
#%# capabilities=

#!/bin/bash


# -*- sh -*-



: << 

=

cut



=

head1 NAME

  switchbotmeter - Munin plugin to monitor temperature and humidity with SwitchBot Meter



=

head1 CONFIGURATION

  Obtain a token and deviceid 

for

 SwitchBot API. See the following website.
  https://github.com/OpenWonderLabs/SwitchBotAPI



=

head1 ENVIRONMENT VARIABLES

  env.token    : Token to access SwitchBot API. 

(

Required

)


  env.deviceid : Device ID of SwitchBot Meter. 

(

Required

)


  env.interval : Interval in seconds 

for

 API access. 

(

Optional, default is 0

)


  env.tempunit : Temperature unit. 

(

Optional, default is C

)





=

head1 NOTES

  The amount of SwitchBot API calls per day is limited to 

1000

 times.
  If munin-node executes this plugin every 

5

 minutes, the API will be called 

288

 times a day.
  You can use env.interval parameter to prevent frequent API access. For example, 

if

 you set
  env.interval 900, the API response will be cached to local file 

for

 

900

 seconds

(

15

 minutes

)

.



=

head1 AUTHOR

  K.Cima https://github.com/shakemid



=

head1 LICENSE

  GPLv2
  SPDX-License-Identifier: GPL-2.0-only



=

head1 Magic markers

  

#%# family=contrib


  

#%# capabilities=





=

cut

. 

"

${

MUNIN_LIBDIR

}

/plugins/plugin.sh"



set -o nounset
set -o pipefail



# Token to access SwitchBot API


token

=

${

token:?

}





# Device ID of SwitchBot Meter


deviceid

=

${

deviceid:?

}





# Interval for API access (second)


interval

=

${

interval

:-

0

}





# Temperature unit


tempunit

=

${

tempunit

:-

C

}



config

()

 

{


    cat 

<<EOF


graph_title SwitchBot Meter ${deviceid}


graph_category sensors


graph_scale no


graph_vlabel Temp ${tempunit} / Humid %


graph_args --base 1000


temperature.label temperature


humidity.label humidity


EOF




}



fetch

()

 

{


    

if

 

[

 

"

${

interval

}

"

 -ne 

0

 

]

; 

then


        time_now

=

$(

 date +%s 

)



        

if

 

[

 -f 

"

${

MUNIN_STATEFILE

}

"

 

]

; 

then


            time_modified

=

$(

 stat --format

=

%Y 

"

${

MUNIN_STATEFILE

}

"

 

)


        

else


            time_modified

=

0


        

fi



        

if

 

[

 

$((

 time_now 

-

 time_modified 

))

 -le 

"

${

interval

}

"

 

]

; 

then


            declare 

$(

 cat 

"

${

MUNIN_STATEFILE

}

"

 

)


        

else


            fetch_api
            echo 

"temperature=

${

temperature

}

 humidity=

${

humidity

}

"

 > 

"

${

MUNIN_STATEFILE

}

"


        

fi


    

else


        fetch_api
    

fi



    echo temperature.value 

"

${

temperature

}

"


    echo humidity.value 

"

${

humidity

}

"




}



fetch_api

()

 

{


    response

=

$(

 curl -s -H 

"Authorization:

${

token

}

"

 

"https://api.switch-bot.com/v1.0/devices/

${

deviceid

}

/status"

 

)



    statusCode

=

$(

 echo 

"

${

response

}

"

 | jq 

'.statusCode'

 

)


    

if

 

[

 

"

${

statusCode

}

"

 -ne 

100

 

]

; 

then


        echo Error with statusCode 

=

 

"

${

statusCode

}

"

 1>&

2


        exit 

1


    

fi



    temperature

=

$(

 echo 

"

${

response

}

"

 | jq 

'.body.temperature'

 

)


    humidity

=

$(

 echo 

"

${

response

}

"

 | jq 

'.body.humidity'

 

)




}





# Main




case

 

${

1

:-

}

 in
config

)


    config
    

if

 

[

 

"

${

MUNIN_CAP_DIRTYCONFIG

:-

}

"

 

=

 

"1"

 

]

; 

then


        fetch
    

fi


    ;;
*

)


    fetch
    ;;


esac



exit 

0