Repository

Last change

2018-08-01

Graph Categories

Family

Capabilities

Keywords

Language

License

Authors
wireless_signal_noise_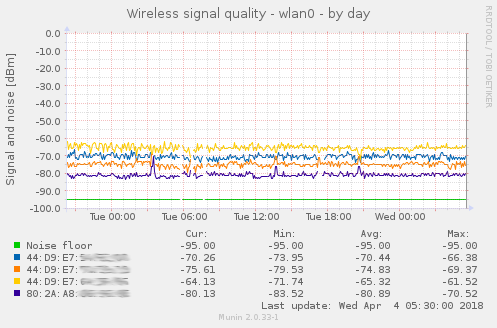 Name
wireless_signal_noise_ - Show signal strength and noise for all connected peers of wifi interface
Applicable Systems
This plugin is suitable for wifi interfaces with a stable selection of peers (e.g. infrastructure). It is probably not useful for hotspot-like scenarios.
Information is parsed from the output of the tool "iwinfo" (OpenWrt) or "iw" (most systems, incomplete information).
Configuration
Symlink this plugin with the name of the wifi interface added (e.g. "wlan0").
Root permissions are probably required for accessing "iw".
[wireless_signal_noise_*]
user root

Version
1.1

Author
Lars Kruse devel@sumpfralle.de
License
GPLv3 or above
Magic Markers
#%# family=auto
#%# capabilities=autoconf suggest

#!/bin/sh



: << 

=

cut



=

head1 NAME

wireless_signal_noise_ - Show signal strength and noise 

for

 all connected peers of wifi interface



=

head1 APPLICABLE SYSTEMS

This plugin is suitable 

for

 wifi interfaces with a stable selection of peers 

(

e.g. infrastructure

)

.
It is probably not useful 

for

 hotspot-like scenarios.

Information is parsed from the output of the tool 

"iwinfo"

 

(

OpenWrt

)

 or 

"iw"

 

(

most systems,
incomplete information

)

.




=

head1 CONFIGURATION

Symlink this plugin with the name of the wifi interface added 

(

e.g. 

"wlan0"

)

.

Root permissions are probably required 

for

 accessing 

"iw"

.

  

[

wireless_signal_noise_*

]


  user root




=

head1 VERSION

  1.1




=

head1 AUTHOR

Lars Kruse <devel@sumpfralle.de>




=

head1 LICENSE

GPLv3 or above




=

head1 MAGIC MARKERS

  

#%# family=auto


  

#%# capabilities=autoconf suggest





=

cut


set -eu


SCRIPT_PREFIX

=

"wireless_signal_noise_"






# prefer "iwinfo" for information retrieval, if it is available




if

 which iwinfo >/dev/null; 

then


	

# "iwinfo" has a stable output format but is only available on openwrt


	get_wifi_interfaces

()

 

{

 iwinfo | grep 

"^[a-zA-Z]"

 | awk 

'{print $1}'

; 

}


	

# return MAC of peer and the signal strength


	get_wifi_peers

()

 

{

 iwinfo 

"

$1

"

 assoclist | grep 

"^[0-9a-fA-F]"

 | awk 

'{print $1,$2}'

; 

}


	

# the noise should be the same for all peers


	get_wifi_noise

()

 

{

 iwinfo 

"

$1

"

 info | sed -n 

's/^.* Noise: \([0-9-]\+\).*/\1/p'

; 

}




else


	

# "iw" is available everywhere - but its output format is not recommended for non-humans


	get_wifi_interfaces

()

 

{

 iw dev | awk 

'{ if ($1 == "Interface") print $2; }'

; 

}


	get_wifi_peers

()

 

{

 iw dev wlan0 station dump 

\


		| awk 

'{ if ($1 == "Station") mac=$2; if (($1 == "signal") && ($2 == "avg:")) print mac,$3}'

; 

}


	

# TODO: there seems to be no way to retrieve the noise level via "iw"


	get_wifi_noise

()

 

{

 echo; 

}




fi




if

 which arp >/dev/null; 

then


	

# openwrt does not provide 'arp' by default


	get_arp

()

 

{

 arp -n; 

}




else


	get_arp

()

 

{

 cat /proc/net/arp; 

}




fi




clean_fieldname

()

 

{


	echo 

"

$1

"

 | sed 

's/^\([^A-Za-z_]\)/_\1/; s/[^A-Za-z0-9_]/_/g'




}




get_ip_for_mac

()

 

{


	local ip
	ip

=

$(

get_arp | grep -iw 

"

$1$

"

 | awk 

'{print $1}'

 | sort | head -1

)


	

[

 -n 

"

$ip

"

 

]

 

&&

 echo 

"

$ip

"

 

&&

 

return

 

0


	

# no IP found - return MAC instead


	echo 

"

$1

"




}




get_wifi_device_from_suffix

()

 

{


	local suffix
	local real_dev
	

# pick the part after the basename of the real file


	suffix

=

$(

basename 

"

$0

"

 | sed 

"s/^

$SCRIPT_PREFIX

//"

)


	

for

 real_dev in 

$(

get_wifi_interfaces

)

; 

do


		

[

 

"

$suffix

"

 !

=

 

"

$(

clean_fieldname 

"

$real_dev

"

)

"

 

]

 

||

 echo 

"

$real_dev

"


	

done

 | head -1


}




do_config

()

 

{


	local wifi
	wifi

=

$(

get_wifi_device_from_suffix

)


	

[

 -z 

"

$wifi

"

 

]

 

&&

 echo >&

2

 

"Missing wifi: 

$wifi

"

 

&&

 

return

 

1


	echo 

"graph_title Wireless signal quality - 

$wifi

"


	echo 

"graph_args --upper-limit 0"


	echo 

"graph_vlabel Signal and noise [dBm]"


	echo 

"graph_category wireless"


	echo 

"graph_info This graph shows the signal and noise for all wifi peers"


	echo 

"noise.label Noise floor"


	echo 

"noise.draw LINE"


	

# sub graphs for all peers


	get_wifi_peers 

"

$wifi

"

 | 

while

 read -r mac signal; 

do


		fieldname

=

$(

clean_fieldname 

"peer_

${

mac

}

"

)


		peer

=

$(

get_ip_for_mac 

"

$mac

"

)


		echo 

"signal_

${

fieldname

}

.label 

$peer

"


		echo 

"signal_

${

fieldname

}

.draw LINE"


	

done




}




do_fetch

()

 

{


	local wifi
	local peer_data
	local noise
	wifi

=

$(

get_wifi_device_from_suffix

)


	

[

 -z 

"

$wifi

"

 

]

 

&&

 echo >&

2

 

"Missing wifi: 

$wifi

"

 

&&

 

return

 

1


	peer_data

=

$(

get_wifi_peers 

"

$wifi

"

)


	echo 

"

$peer_data

"

 | 

while

 read -r mac signal; 

do


		

# ignore empty datasets


		

[

 -z 

"

$signal

"

 

]

 

&&

 

continue


		fieldname

=

$(

clean_fieldname 

"peer_

${

mac

}

"

)


		echo 

"signal_

${

fieldname

}

.value 

$signal

"


	

done


	noise

=

$(

get_wifi_noise 

"

$wifi

"

)


	echo 

"noise.value 

${

noise

:-

U

}

"




}




ACTION

=

"

${

1

:-

}

"





case

 

"

$ACTION

"

 in
	config

)


		do_config 

||

 exit 

1


		

if

 

[

 

"

${

MUNIN_CAP_DIRTYCONFIG

:-

0

}

"

 

=

 

"1"

 

]

; 

then

 do_fetch; 

fi


		;;
	autoconf

)


		

if

 

[

 -z 

"

$(

get_wifi_interfaces

)

"

 

]

; 

then


			echo 

"no (no wifi interfaces found)"


		

else


			echo 

"yes"


		

fi


		;;
	suggest

)


		get_wifi_interfaces | 

while

 read -r ifname; 

do


			clean_fieldname 

"

$ifname

"


		

done


		;;
	

""

)


		do_fetch
		;;
	*

)


		echo >&

2

 

"Invalid action (valid: config / suggest / autoconf / <empty>)"


		echo >&

2


		exit 

2


		;;


esac